The Source: Olympus Stylus Camera 10.1MP $99.96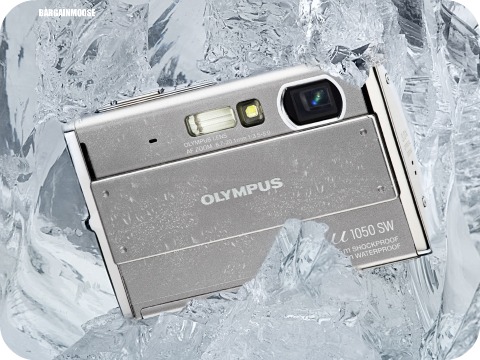 Found this cool camera on The Source today. The original price of it use to be $349.99. I couldn't believe it so I checked a few places and yup, thats right. It is STILL around that price on Amazon.com! On The Source they are offering demos with full warranty for only $99.96.
So I decided to do a bit of research on what makes this camera so great. I ran across this blog called "Scuba Diving - Blog" and they had an article from July 27, 2010 about this camera. Here is an excerpt I found really cool:
While other digital cameras may use touch screens to access settings, the new Stylus 1050 SW has a shockproof, waterproof and freezeproof body that is sensitive to touch all over. So getting to the most common menu settings in situations where pushing buttons takes time or is difficult is now as fast and easy as a tap on the top, back or sides of the camera.

The rugged 10.1-megapixel Stylus 1050 SW is designed to take the hard knocks that everyday life–particularly those with kids–can throw its way, so you know that the memories it captures will be protected. It can handle five-foot drops to the hard ground, operate in freezing snowstorms, and swim with the fishes — lethal conditions for most other digital cameras. Additionally, the sleek, lens-protecting faceplate slides down, turning the camera on and revealing the lens in an instant to capture the moment.
If you want to read the rest of the review, check it out HERE.
So if you are looking for a new camera, you can save yourself $250 with the Olympus Stylus. Check it out.