The Source: iPod Touch 5th Generation 16 GB (Damaged Box) Was $230 Now $160 (Expired)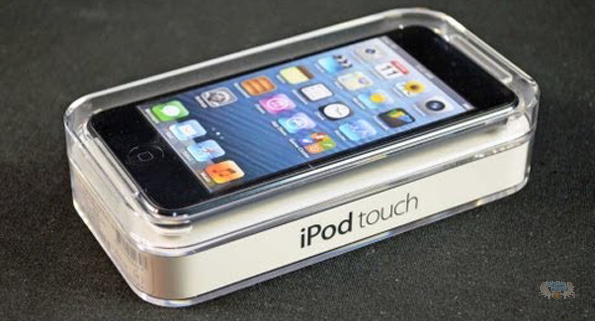 In today's Apple - centric society, many people desire iPhones and iPods. Even I'll admit that I was late to join the bandwagon, but once I finally purchased an iPod Touch several years ago, I realized just how useful these mobile devices are. Getting a decent deal on Apple products can be a rarity due to their massive popularity, but this particular deal at The Source is really hot, so take advantage of this while you can! At The Source, you can order a 5th Generation iPod Touch with 16 GB of storage space (listed as a display model, and it has a damaged box) for just $159.97! It normally retails for $229.99, so you're saving $70.02 in total! It also qualifies for free shipping - whoo!
There are many apps that you'd find useful on an iPod Touch. Whether you're looking for word applications, video players, recipe e-books, or games, the iPod Touch will consistently keep you entertained. Its bright retina display and Facetime capabilities are also very cool!
I found that the iPod Touch helped me improve my productivity. When I first got one of these devices, it allowed me to check my work related emails (I was strictly freelancing at the time) when I was away from my home office, or when I was visiting friends. This was when mobile internet plans were less affordable than they are currently, so I found the iPod Touch incredibly useful (obviously, if I was on the road or at a store, I couldn't check my emails with the iPod Touch, since a wireless internet connection is required).
This is the latest edition of the iPod Touch (5th generation), and 16 GB of room for your songs and apps should be just enough space for most casual users. It's currently selling for $219.99 at Future Shop, but they're all out of stock at this time. Surprisingly, Best Buy is actually having a sale on these at the moment for $179.99, but they're all sold out according to their website.
Here's a snippet of a review for the 5th gen iPod Touch from a satisfied Best Buy customer:
Simply said, Apple has always done an amazing job on their flagship iPod device, the iPod Touch. With a stunning retina display, it makes even watching movies worth it (which normally wouldn't be on a small screen). With the processing power they fill it with, I can play games on it that not even my cell phone can play properly!!
This deal won't last long, so get this while they're still in stock at The Source! Happy hunting, Bargainmoosers!
(Expiry: 10th September 2014)