The Source Canada: Aviator Turntable Wooden Music Centre (Refurbished) Was $137 Now $40 (Expired)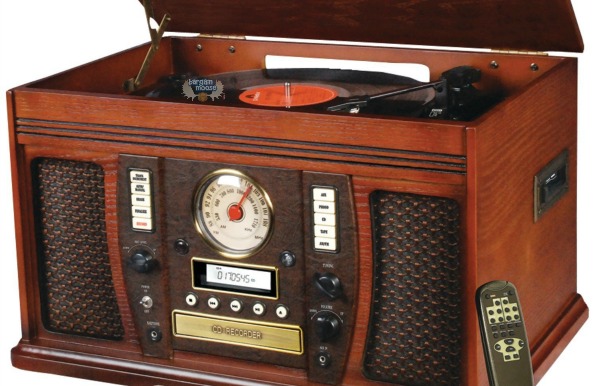 We all know how refurbished and clearance items at The Source don't last for very long. After all, making an informed decision as fast as you can is key to scoring a great deal - especially if it's online. If you act quickly, you can nab this refurbished Innovative Technology Aviator Turntable Wooden Music Centre for just $39.98 - the regular refurbished price is $137, and it's normally $250 brand new! You'll also be able to get free standard shipping with your order. This isn't your average music centre - read below to learn more about this fantastic device!
Not only is this device visually pleasing and a great throwback to simpler times - it also has some exceptionally useful features. This product from Innovative Technology has a 3 speed turntable, cassette tape deck, AM/FM radio, and even a recordable CD player. It would be a great gift for anyone that still rocks a vinyl collection.
However, I didn't even mention the best feature yet - I just think that it's so cool! With the Aviator Turntable Wooden Music Centre, you can also record your vinyl and cassette tapes directly to a CD! No computer is required, you just simply do it all on this device! This is a really useful feature for those that treasure their record collection, yet want to listen to some of them while they're driving their vehicle without buying the CD. You can also plug in your iPod or music player to this device if you want to listen to it through its built - in speakers.
When looking for this product online, you can find brand new ones on Amazon that range between $259 to $404. It's also on sale at Kohl's for $175. Listed below is a review from a satisfied Amazon customer:
Excellent stability! Excellent sound fidelity! Simple to operate. Make CD's from your old vinyl recordings and from your cassettes,then use your computer to rip the CD's into formats for your iPod. The Aviator is a must have if you need to convert a special collection of music that you cannot download. Naturally, digitized downloads are superior, but this machine is for you if you don't mind an occasional snap, crackle and pop in your copy.
These deals don't stay in stock very long at The Source, so get one while it's still available! Happy hunting, Bargainmoosers!
(Expiry: Unknown)