The Brick Canada: Big Fat Screen Giveaway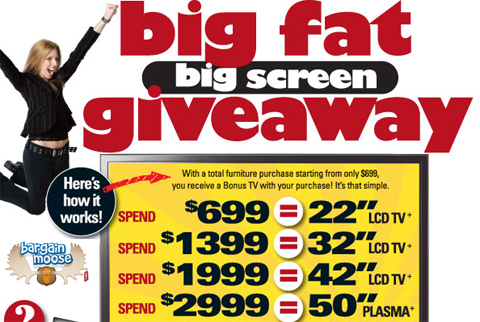 The Brick is giving away big fat screen TVs with your purchase!
The size of the free TV depends on how much you are going to spend, here's a breakdown:
Spend $699 for a free 22" LCD TV
Spend $1399 for a free 32" LCD TV
Spend $1999 for a free 42" LCD TV
Spend $2999 for a free 50" plasma TV
So here's an example: if you buy this Omega Black Bonded leather recliner sofa chair package for $1999.97 (price depends on where you live), then you'd get a free 42" LCD TV! I'd love that sofa package! I'm using a really old sofa set that was a hand me down from my sister, I've never actually bought my own sofa. I like black leather but I find some sets can be quite cold and uncomfortable, so I'd prefer to try them out in the store.
Another example: the City Gazebo 6 piece queen bedroom set is $1499.97, so you'd get a free 32" TV with that one.
But as usual, I am going to encourage you to be a savvy shopper here. Just because this is a special offer, doesn't mean you must purchase things here. If you're look for a specific piece of furniture, price around and see how much you are going to spend. If you're spending a lot extra just because you're buying at The Brick to get the free TV, then it's not worth it. But if you find that the furniture you were going to get is at a reasonable price from The Brick anyway, then you might as well make your purchase there to get that sweet freebie.
Alternatively, instead of the free TV, they also can offer you a 15% discount on your total purchase price - that might work out better for you. Do your research!
(Ends 23rd June 2011)