Staples Canada: Get a $40 Gift Card When you Buy WiFi iPad Air or iPad Mini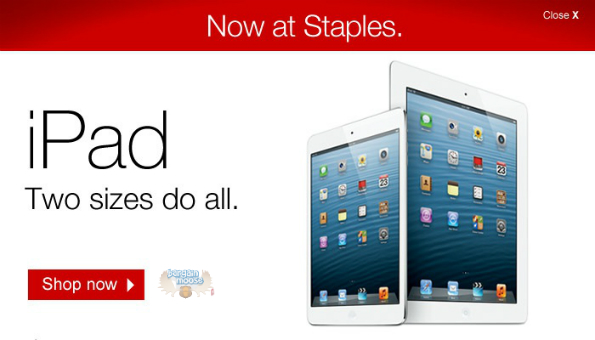 Get $40 just for picking up the iPad you were already going to buy from Staples Canada!
This deal is a bit weird to link to so I linked to a search results page that includes all the iPad Air and iPad Minis that Staples sells but you can only get the deal on certain iPads. You can get your gift card if you buy a 16GB, 32GB or 64GB iPad Air in either Space Grey or White. The only iPad Mini for which this deal is valid is the 16GB in Space Grey or White. I don't know why it isn't available on the bigger Minis or the biggest Air. I can only imagine that it's some policy with Apple. It is also only available on WiFi only iPads. You'll know the iPad is in this deal because it will say "SPECIAL BUY!" underneath it and "FREE Staples $40 Gift Card!" next to it.
I know this deal isn't going to make you buy an iPad over another tablet but if you were going to get one anyway, this is a great opportunity to get a little something extra with it. Getting someone an iPad is a great gift idea but adding a $40 gift card to their present is even better. You could even use the card to get them a case or something. Or keep it all for yourself! The choice is yours!
Shipping on orders over $45 is free!
(Expires: 10th December 2013)