Staples Canada: Electronic Security Safe & Portable Safe Combo Now $50 (Save $50)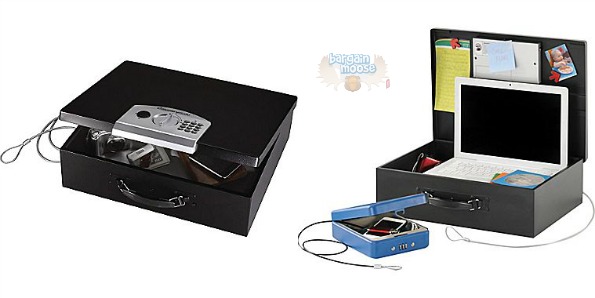 My husband often quotes Elmer the Elephant who, evidently, said "Safety first." While that can get quite annoying, I do believe safety is important especially when it comes to protective expensive items we buy.  Staples Canada has an excellent deal on an Electronic Security Safe and Portable Combination Safe Combo to keep your electronics, paperwork, jewelry, and other valuables secure. Originally $99.98, the set of safes is on sale for $50 with free shipping (as the safes cost over $45 - the minimum for free shipping).
This deal includes two safes: an electronic security safe and a portable combination safe. Both are made out of durable steel.
The Electronic safe measures 5.8'' high by 17.5'' wide by 13.6'' deep. It is big enough for a decent sized laptop, a tablet, and any paperwork you need to keep secure. It has a programmable lock with a key override for quick access and as an added safety measure in case you forget your lock combination. The double walled steel box provides extra safety, and it comes with a carrying handle for transportation. This safe retails for $79.92 by itself and has a shipping weight of 14 lbs.
The Portable combination safe measures 2.6'' high by 5.9'' wide by 8'' deep. While you may be wondering what you need a portable safe for, it is as excellent extra safety measure for storing your valuables while not at home. Keep it in the car in case you need to leave any valuables in your car at any time. Take it to the gym and put it in your locker to store your keys, phone, and wallet while you are at the gym or swimming pool. A couple years ago, there was a rash of locker break-ins at my university so combination safes are just another way to give yourself an extra layer of protection. This safe appears to no longer be sold individually.
$50 is a very reasonable price for two safes. Given the lower price range, do keep in mind that you get what you pay for. These safes are not going to be the highest quality but they should take care of the basics. I have no experience with safes myself, so I cannot comment as to the quality of this brand. If anyone else owns this brand of safes and would like to voice their opinion, feel free to comment below!
(Expiry: 16th September 2014)