Spring Sale @ The Source Canada!
I just got an email from The Source by Circuit City who is announcing a special Spring Sale! They're offering up to 70% discount on certain products.
Click here to browse the deals and steals @ The Source Canada.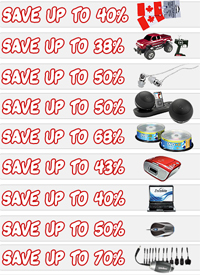 Here is a break down of the discounts in each category:
All GPS Systems on sale
Save up to 40% on Travel
Save up to 38% on Toys
Save up to 50% on Portable Audio
Save up to 50% on Audio
Save up to 68% on Recordable Media
Save up to 43% on Home, Office & Phones
Save up to 40% on Computers
Save up to 50% on Computer Accessories
Save up to 70% on Accessories
Save up to 50% on select Headphones


One thing that is really handy about The Source by Circuit City is their "collect at store" feature. You can choose the items you are interested in online, add them to your cart, and collect at your nearest location. This saves you paying any extra shipping fees. You can see on each product if it states "1 hour in-store pickup" or perhaps "3 day in-store pickup" so you know exactly when you can collect your chosen goodies! Additionally, if you want to claw yourself back a few dollars, you could use Dealguild for 2.6% cashback!

I'm having a quick browse through the store to see if there is anything of interest. Here's what I've spotted:
NEXXTECH™ DVD Rs 25-PACK (Search for 2619908 for DVD-R and 2619909 for DVD +R) for only $9.99 (Save $3

on the regular price)
CENTRIOS™ BLACK PEARL WIRELESS SPEAKERS (Search for 4015110) for only $129.99 (Save $70!)
CENTRIOS™ 8" PORTABLE DVD PLAYER (Search for

1611558) for only $119.99 (Save $80!)
NEXXTECH™ USB MISSILE LAUNCHER (Search for

6311703) for only $29.99 (Save $10
Can you see any more good deals?