Sony Ipod Mini System For $90 @ BestBuy.ca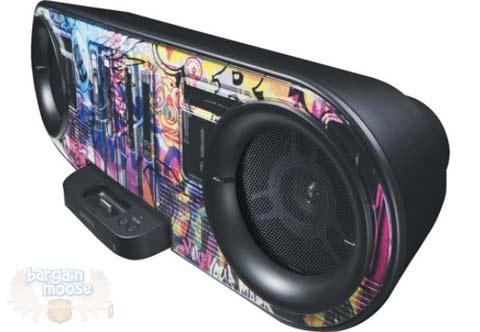 The Sony RDHSK8IP  Ipod Mini System is over half price from Best Buy - it was $199.99 and it's now only $89.95. Plus, you get free shipping too as your order is more than $20.
The Sony iPod Mini System is a 75W iPod dock, into which you can slot your iPod to crank out some rocking tunes. It's quite a funky design too, with customizable graphic skins.
Apparently it uses the standard Apple connector, but it can also work with a stereo mini line in jack.
Review wise, the commenters on The Source's website are very positive indeed.
Diamond says:
The sound that this unit puts out with my IPOD is amazing.
And sounder says:
I bought it and was pleasantly surprised at its clean, crisp, punching sound...at high volume.
I wonder if it would fit my iPhone?
(Ends 22nd June 2011)