Phone Gala: Mipow TOPP 4-Port USB Hub Was $20 | Now $6 + Shipping (EXPIRED)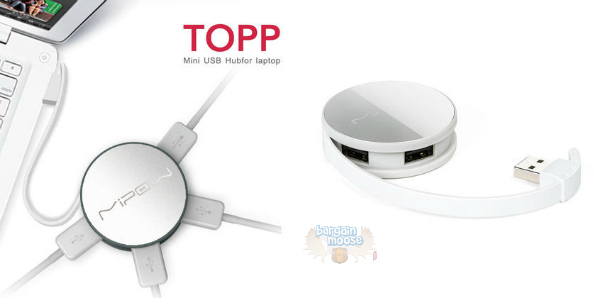 Phone Gala has a flash two-day sale on the 2013 Reddot Award winning Mipow TOPP 4-Port USB Hub. Originally $19.99, the hub is now on sale for $5.99. Shipping is free on orders of $49 across all of Phone Gala's sister stores. Alternatively, there is a $4.95 shipping fee for any order.
I could not find this product elsewhere in Canada, but I did find it out of stock at AliExpress for $24.77 USD. This appears to be an older model, thus many stores no longer have it in stock. I still think this is a good deal as even your most basic 4-port USB hubs sell for $8 or more at Best Buy Canada. Mipow is not just some no-name brand. Mipow's own website has the hub listed at $19 USD.
I was just talking to a friend of mine about one of these. He was looking at a new laptop that only had two USB slots, whereas he uses two external monitors, a USB mouse, and often uses flash drives that require a free USB port. Rather than reject the new computer due to a lack of USB ports, I suggested he purchase a simple USB hub, like this one. He did not even know that such little devices existed, and was pleased he could get one of these instead of spending an additional $$ on a computer with more USB ports built in.
I wanted to let you know that we also have an exclusive 5% off coupon code for Phone Gala. It cannot be stacked on top of a sale like this, but if you are shopping for other items then it can come in very useful.
I recommend Phone Gala and her sister stores for great Apple accessories without the mark up on genuine Apple products. I was recently given a iPhone 5 cable to try out. It works just as well as my original Apple cable, which just broke through so it needed replacing. Once that white coating splits open, it is unsafe to use your cable. The cable arrived insanely quick and has worked with my laptop, original charger, and car charger for my iPhone.
I like that Phone Gala and her sisters stores are budget friendly while providing accessories for brand name products.
(Expiry: 7th June 2015)