Philips Bluetooth Speaker Was $70 | Now $30 @ Bestbuy.ca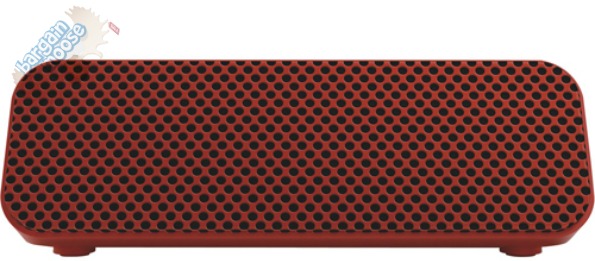 Best Buy Canada has discounted the Philips SBT75 Bluetooth Speaker from $69.99 down to just $29.99. The red version is still in stock and waiting to find its way into your cart. Receive free shipping on the Philips speaker as the unit costs over $25.
This is an older model speaker, I assume, as no one really has it in stock anymore. When trying to price compare, I found it from a Marketplace seller on Amazon Canada for $107 plus shipping and from Amazon.com for $55.48 US in white. They also had black, but it was more expensive. Given these few price comparisons, I figured that best buy's deal was worthy of a little attention.
This little speaker uses Bluetooth technology to wirelessly stream music between your music player and the speaker system. The built in lithium battery lasts up to five hours and can be recharged via the included USB cable. Charge the portable Philips speaker off your laptop or use a USB to wall charger connection like the Anker 40W 5-Port Family-Sized Desktop USB Charger I have mentioned a couple times before. I find it is faster to charge my wireless speakers using a wall charger.
I scouted out Amazon.com for reviews. With 114 reviews, the Philips SBT75 Bluetooth Speaker averages a 4.2/5 stars. One reviewer said:
I found this speaker at Best Buy on clearance for under $40. I thought when I purchased it that it would sound completely crappy, however, it sounds good. It doesn't sound like an amazing home stereo system, but rather a really good sounding small speaker. It seems to last about 5 or 6 hours on a charge.
Do note that this speaker does not work for conference calls - you cannot use this for audio 'in' is my assumption. However, for the price it looks like a great purchase to play your tunes. The small size and five hour battery life allows you to throw it in your backpack, purse, or car and take it with you. I also like the colour: black is so easy to miss and white gets dirty very quickly. Red stands out and is noticed.
If you own this little speaker system, drop us a comment to tell us what you think of the unit.
(Expiry: 8th January 2015)