NewEgg Canada Thanks Us On Thanksgiving!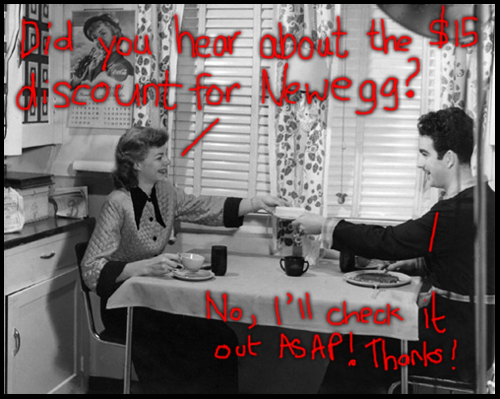 The recently opened NewEgg.ca store is doing a great offer for the Thanksgiving celebrations. It's a $15 discount on a $15 spend!! Now, as their shipping charges for smaller items can be a little on the steep side, this promo code is pretty great, as it kind of means free shipping.
Where: Online @ New Egg Canada
What: $15 off $15
Coupon Code: NEWEGGCA15
When: Right now, don't know for how long!
E.g. I tested it out on a $52 electric toothbrush, and the shipping was $16, so the $15 discount really helped.
If you haven't heard of these guys, NewEgg are a major online retailer in the states, and have just opened their Canadian store. They have a wide range of electronics and computer stuff. Thoughts across the internet seem to be quite "meh" as the prices aren't astounding, and the shipping seems quite high. Randomprocess even went so far as to call their launch a "massive fail". I'll give them a few months to see how they go before I make any purchases though.
Thanks to Joey Harrison for the image.

- Anna