NewEgg.ca: The Coolest Deal on Computer Gear and Other Tech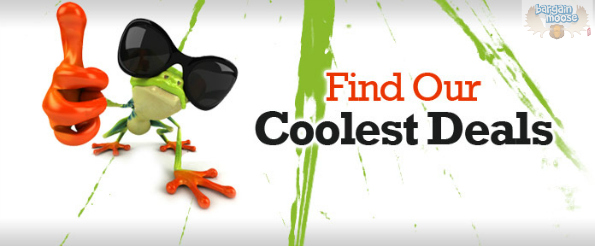 That frog wants you to buy some awesome stuff at great prices from New Egg Canada. Obey!
Here are a few of the deals available:
So you'll likely notice that these deals are all from the first page. I did that to show how great of a sale this is. Out of 6 pages, 62 items, I picked four out of the first page, the first 12 items. I didn't even have to look. I didn't even have to scrounge to get some variety. This is another one of those great sales that has a bit of everything. Even a frog. That is one awesome frog.
Anywho, this is where I talk about something so let's talk about shipping! Ooooo! Exciting, I know. Seriously though, the shipping costs here are nuts. You can get a laser printer, which is a big, heavy item, shipped to your door for $5. How crazy is that? I can't send a registered letter to my next door neighbor for under $5. People always complain about big companies putting the little guy out of business but with clout like this, I don't really mind. If the little guy can make my product appear at my front door for $5 then you can call me Mr. Small Business.
(Expires: Unknown)