Nero.com: Get Nero 2014 For 70% Off - Now $30 (Was $100)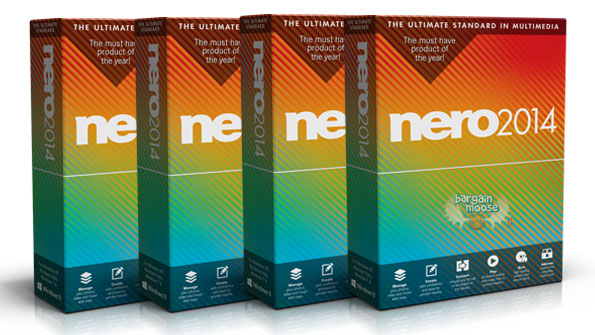 For a limited time, you can get Nero 2014 for 70% off! Instead of its regular price of $99.99, you can get it for just $29.99.
A couple of years ago, I used Nero to burn discs because it's such an easy to use program. I'm definitely not surprised to see that they are still among the top disc burning software, but what I am surprised at is the amount of features included within Nero 2014. In its review of Nero 2014 Platinum, PC Mag pointed out that you can basically do everything with Nero instead of having multiple programs for simple tasks, instead of: "iTunes for music ripping and playing, ImgBurn for disc burning, Picasa for simple photo editing, Windows Movie Maker for simple video editing" and this definitely applies to Nero 2014 as well.
At its core, Nero 2014 is disc burning software that can either make DVD or Blu-Ray discs, but it also most notably features Nero Play to TV streaming, which allows users to easily stream movies, photos or music through a TV, Blu-Ray player or DMA, though keep in mind that all of these would need to have streaming capabilities.
Nero 2014 includes media management as well, and the cool part about this is that it simplifies the browsing of media on your computer. When uploading pictures onto the computer, we typically see names like "IMG1234" but with Nero's media management, you will be able to easily add media from your devices into the Nero program and have it catalog everything for quick and easy searching.
Even more impressive is that Nero 2014 offers media editing tools that are either express or advanced. With the former, you can quickly trim or re-arrange clips, add effects, and so on, while the latter has more effects, along with multi-track timeline and full overlay handling.
You can also download a free trial of Nero 2014 before purchasing it. To do so, you will need to enter your e-mail address to then receive a free 15-day trial.
Everywhere else, a copy of Nero 2014 is available for its regular price of $99.99 (i.e. Future Shop) and although it's also the physical version, Nero's own digital copy definitely beats it in price. I would much prefer to play $30 for a digital download, instead of $100 for a physical copy as it's essentially the same thing. Plus, you won't have to worry about waiting for it to arrive in the mail as you will be able to download instantly upon purchase.
(Expiry: 26th August 2014)