Microsoft Store: $100 Off Surface 2 Tablet & Free Sleeve - Starting @ $349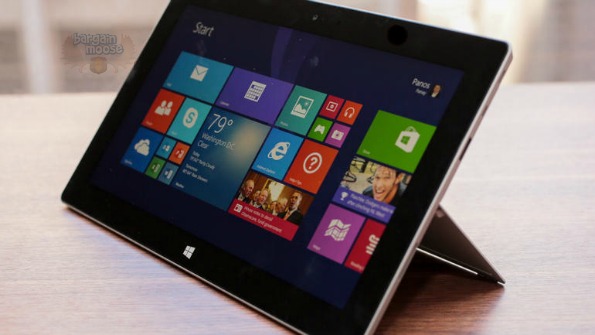 The Microsoft Store has discounted all their Surface 2 tablets by $100. Big deal, other stores are doing it too. However, Microsoft sweetens the deal considerably by throwing in a free sleeve of your choice up to $50 worth. Now this is a deal worth talking about. Get your own Surface 2 Tablet and sleeve of your choice starting at $349.
The Surface 2 tablet is discounted by $100 in all sizes. You can purchase:
32GB Surface 2 Was $449 | Now $349
64GB Surface 2 Was $549 | Now $449
64GB Surface 2 for AT&T Was $679 | Now $579
As I said before, Microsoft is not the only one who has, or will discount these tablets. Best Buy Canada currently has the same tablets for 99 cents more, though the deal at Best Buy ends tonight. However, no one else is offering a free sleeve with the discounted tablet and that is where Microsoft steps ahead of the competition.
32GB is enough space for me, though upgrading to double the space for only an extra $100 is pretty tempting. There are tons of cases to choose from in this offer. That is the other thing that really wins me over in this deal: choice! It is not like "here, have this ugly case we are trying to get rid of anyway." Rather, you get to choose from 35 different cases. This is unusual and splendid in my books. The cases range in value, but here are some of the higher value options:
Brenthaven BX2 Sleeve - $49.99 value
Maroo Folio Case for Surface (Purple) - $49.99 value
Nixon Surface Sleeve (Steel Blue) - $49.99 value
There is great brand diversity and many different colour options as well.
Picking up this deal is simple. Select the tablet you want first. Then, it will open up the selection of free cases for you to choose from with all of them marked down to $0. Pick your case. At the bottom, you will see a bar that says, "Review your bundle." Make sure you have what you want and then add the bundle to your cart.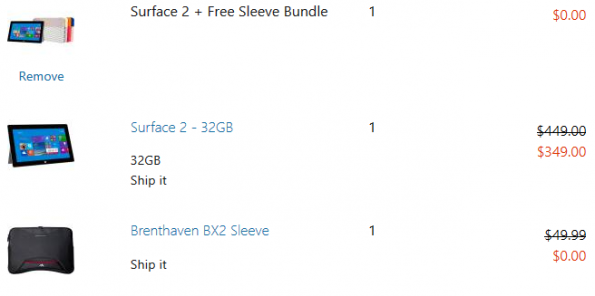 Overall, you save $150. Your cart should look something like the above image. Microsoft offers free shipping on orders of $75 or more so you will be getting this bundle shipped to your door for free.
I don't have much experience with the Microsoft tablets, so I really can't advise you as to whether they are worth the price. Feel free to comment if you have one!
(Expiry: unknown)