Microsoft Canada Store: $200 Off 15" HP ENVY TouchSmart + Free $25 Gift Card – Last Day Of 12 Days Of Deals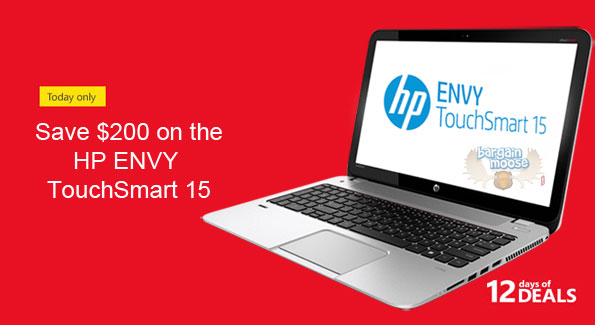 After 12 days of marvelous deals that all sold out within hours for the most part, Microsoft's 12 Days Of Deals is coming to an end today with their final deal. Luckily, we have received advanced notice that today only, as of 10am EST, you will be able to save $200 off the 15" HP Envy Touchsmart laptop and get it for just $699 instead of $899.
At its reduced price, this 15.6" notebook is most certainly a steal considering its specs: Intel Core i7, 8GB memory, and 750GB hard drive. The fact that it boasts CoolSense is also worth mentioning, as its an HP technology that allows the laptop to stay cool even if you're using it on your lap. With that being said, out of all the reviews I have read about this laptop, it is perhaps the one from PCWorld that sums it up the best:
When gaming is a priority, but cash flow is tight.
Both Trusted Reviews and LaptopMag.com also back up this claim, noting the impressiveness of the specs with regards to the price, which is even better today at Microsoft! With that being said, the only drawbacks are its lower than average battery life and slight heavier make but for anyone looking to game or to offer this cool laptop as a gift to a gamer, then these two factors shouldn't even be an issue.
As I mentioned in a previous post on Microsoft's 9th day of deals, you can expect fast and absolutely free shipping with no required minimum.
(Expiry: 20th December 2013)