Lorex Pro Security System | 4 Varifocal Cameras + DVR Was $864 | Now $613 With Exclusive Coupon Code & Free Shipping @ Lorex Technology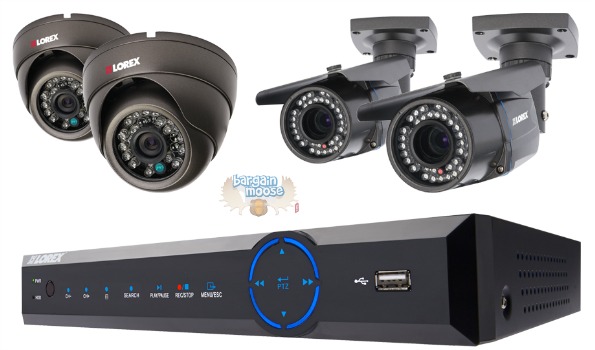 Whether you are looking to provide a little extra security for your home or your small business, this Lorex security set with 4 camera and a DVR will have you covered. This set was $864 and is on sale for $720.99. With the exclusive coupon code BARGAINMOOSE15, this can be yours for only $612.84. Free shipping is included for any item over $3.99 @ Lorex Technology.
Lorex has a Canadian and American site so make sure to click the Canadian flag at the top. The site seems to default to the American site. Browsing through these security systems on the Lorex page, there are many different options to choose from with slightly different features. The security system we are looking at today has some extra upgrades in it that you do not see at this price point at the other retailers. This is a professional grade security system designed to give you flexibility to monitor fully the area you choose.
A quick breakdown of what this set includes:
12 channel DVR
2 Varifocal Bullet cameras
2 Varifocal Dome cameras
165 ft of night vision capability
Remote connectivity via Android or iOS app
1 TB storage
Taking a look at this set, the first thing that pops out to me is the varifocal bullet and dome cameras. This means these cameras have the ability to adjust the lens on your camera and maximize your viewing area. On a standard security set, you would have a fixed lens that does not allow you to tilt and adjust like these dome and bullet cameras allow. The 12 channels included allow you to get a better view as you switch viewing angles and perspectives, especially with the wider viewing area the dome cameras provide. These cameras are also designed specifically to endure harsh climates and cold temperatures, something we have to consider here in Canada. They are fully equipped with night vision to have a clear view always.
I also like the ability to be able to connect via the internet and check in on your security cameras and the DVR. A free app available for iPad Air, iPhone, or Android connects you to your system remotely and ensures you have a close eye. This would be super handy to check from work or even vacation, and is free to use without any extra subscription fees.
I price checked these around the web and was not able to find this exact set. I found a Lorex 4 camera set with four fixed lens bullet cameras, 1 TB of storage, and a DVR with only four viewing channels for $684 @ Tiger Direct. This set is missing many of the whistles and bells, and with only 4 channels to view you will not be able to see as much of the area. Costco has a slightly bigger Lorex security package that includes 8 channels, 2 TB of storage and 4 fixed lens bullet cameras for $899.99. Best Buy and Future Shop also have the same security package as Costco, but at a price tag of $1,399.99 at either retailer.
The available reviews are all very favourable. Here is one happy buyer.

Your best bet is to pick up this deal at Lorex now. This is a bigger purchase so you may want to think about it a little, but do not wait too long. The sale price will only be around for a limited amount of time. The ability to be able to stack the coupon code sweetens this deal. Lorex offers 60-day returns to allow you to fully test the product and ensure you are happy with the system.
(Expiry: Unknown)