Lenovo 7 Days of Prizes Day 6 - Win a Lenovo Yoga Tablet 2 Pro (CLOSED)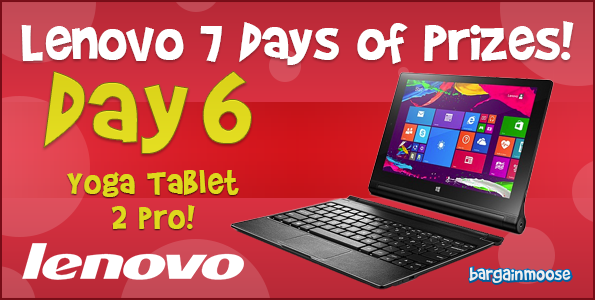 *** Contest now closed, winner was Mooser Andrew! ***
On the sixth day of Christmas, my true love gave to me... a Lenovo Yoga tablet 2 Pro! Enter for your chance to win this hot prize! This little baby is worth $469.99 and you can win it, today only. I bet you can't wait to see what tomorrow will bring, can you?
The Yoga tablet 2 pro is a beauty of a machine, with an 8W sound system, 13.3 inch display with wide view, built-in projector for your home theatre needs and so much more. I mentioned the other day that I have the Yoga tablet, but this one seems so much nicer because you can use it as a projector. I may just have to pick one up for the family this holiday season. It still has the innovative kickstand that holds the tablet up so you can use it four different ways.
This tablet also has a 15-hour battery life and an advanced rear camera, so it isn't just a tablet, it is a complete multi-media device.
How to win this prize?
What kind of fun would you have with the Yoga tablet 2 Pro? Tell us below!
Get bonus contest entries!
Rules:
Canadian entrants only
One entry per household
Ends 7th December 2014
Rules subject to change at admin's discretion