Lenovo 7 Days of Prizes Day 3 - Win an In-Ear Headset! (CLOSED)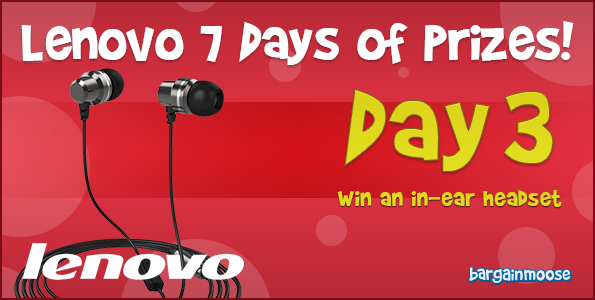 *** Contest now closed, winner was Mooser Kittypride! ***
The prize values just keep going up and up on this Lenovo contest and today's prize is the Lenovo in-ear headset, valued at $32.99.
This headset also has in-line microphones, which means you can switch between calls, music and whatever it is you'd like to listen to. It has noise isolation technology to enhance the audio experience, which means you can't hear anything else. I think I want one of these just to have for when I'm cooking dinner so I can't hear anyone else whining at me.
There are three sizes available so all users can use this headset - big and small - and it comes with a carrying case so it works perfectly for travel or keeping in your vehicle.
We've managed to get those of you out there who want to just pick up this headset right now, an exclusive coupon code, getting you $13 off. You can pick it up this week for only $19.99. Use code BGNMSEHP19 at the checkout to get your discount.
Now, if you want to win these headphones, you can try to do that too. Simply follow the instructions below.
How to win this prize?
Why do you need these in-ear headphones? Please comment below!
Get bonus contest entries!
Rules:
Canadian entrants only
One entry per household
Ends 4th December 2014
Rules subject to change at admin's discretion