Krups 10 Cup Coffee Maker & Grinder Was $209 Now $115 @ Shop.ca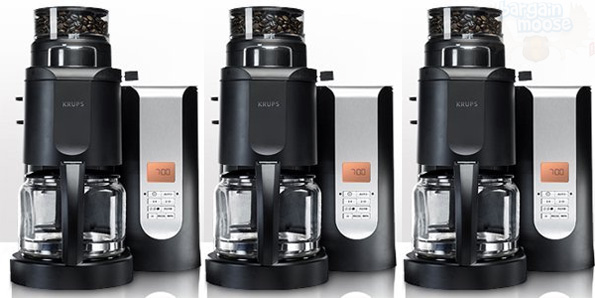 If you're in the market for a new coffee producing device for your home, have a look at this deal from Shop.ca. The Krups 10 Cup Coffee Maker & built-in grinder was $209 and has been reduced down to only $124.99 with free shipping!
BUT here's the nicer bit - new accounts at Shop.ca will get a $10 credit to spend on an order of $100 or more - effectively making the final price on this Krups coffee maker only $114.99.
Here's one feature on this coffee maker that sounds superb: grinds coffee to match number of cups and strength chosen. It would be very efficient to be able to say that you want to make three or four cups, and exactly how strong you want the coffee to be - nice feature!
Just watch out because the site is a little slow for me, and sometimes takes a while to load pages, though you should be able to place your order.
This particular model doesn't seem to be sold at very many online stores in order for me to do a thorough price comparison. But I did spot it for $200 at The Shopping Channel, and $227 on Amazon.ca.
(Expiry unknown)