Hubsan 6 Axis RC Quadcopter Aircraft only $36.62 & Free Shipping @ Eachbuyer! (Expired)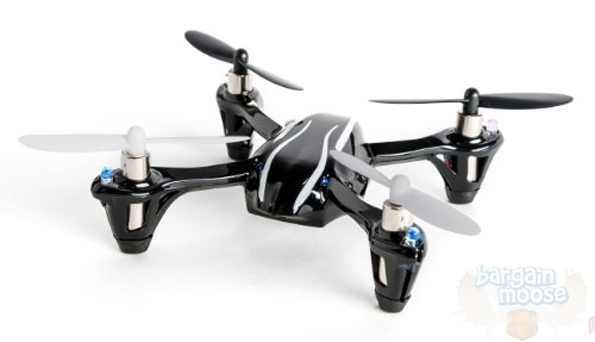 Have you ever wanted to have the power to control a massive aircraft via a remote control? As a child, you most likely envisioned it as a dream come true - I know I was fascinated with toys that I would be able to operate with a wired remote. Remember, people, it was the early 90s and wireless technology was more expensive at the time! With today's deal, you'll be able to control a sleek 6 axis RC Quadcopter Aircraft, with 2.4GHz wireless technology for only $36.62 and free shipping! That's 45% off of the regular price of $75.99.
Here's how to get the aircraft for the aforementioned price. If you sign up for an account on Eachbuyer, you'll get 35 reward points that you can apply to your order. And by adding the coupon code EBFORUM12, you can save even more cashola (12%), and your total will be only $36.62 with free shipping to your home!
At $36.62, this is quite the deal - on Banggood, it's $49.62 with shipping. I would find this helicopter to be a fun purchase - especially if you're looking for a way to wow your friends and family. What better way to surprise your friends than flying an RC quadcopter into the room? Listed below is a snippet of a review from Amazon:
"I have piloted many R/C aircraft for many years, and as time goes on, things are always improving. Sometimes there  is a leap in technology, and I believe we are seeing that with products like this one. For the price and including the controller that it does, This copter can't be beat. If you learn to fly this copter well, you should be able to fly any multi-axis copter with little trouble."
In case you're not familiar with EachBuyer, it's a very customer-friendly website that's especially kind to Canadians, especially since they offer free shipping on all of their items! It can be tough for Canadians to find an online website that offers affordable shipping costs, so the fact that EachBuyer provides us with free shipping is a very nice bonus. You can even change the currency on the site to Canadian, so you can get an accurate estimate of what you're going to be paying when purchasing items from EachBuyer. Whether you're looking for jewellery, electronics, health & beauty products, or even car parts, you can find a wide variety of useful products on the EachBuyer website. You can check out their inventory by clicking here.
Some orders may ship from the US, some seem to be from Asia. Though the shipping is free, the items ship out from their worldwide warehouses, so you may have to pay customs and duties at the door (if your order happens to get stopped by customs officials). Let's hope this isn't the case, as I find it to be the biggest nuisance about shopping from an American website. If you have any luck avoiding customs fees for American shipments, feel free to let us know in the comments below!
P.S. In case you're looking for a "souped-up" version of this Hubsan quadcopter, this model has a 0.3MP camera built into it, and after applying the EBFORUM12 coupon code (saves you an extra $7.19) and signing up for an account (you save an extra $0.26), you'll be able to purchase this particular model for $52.49 - it regularly retails for $101.95!
(Expires: 27th August 2014)