Henry's Canada: Save Up To $1000 On Nikon Lenses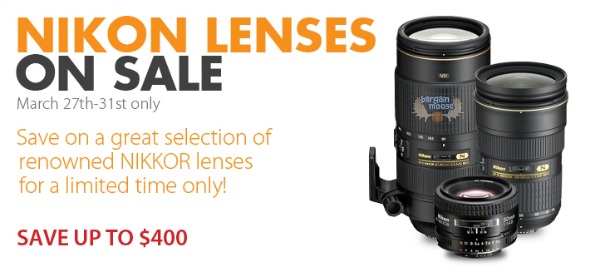 Henry's is having a sale on Nikon lenses and you can enjoy some big savings - as much as $1000 on the pricier lenses.
I am in the market for a new Nikon DSLR, so I've been watching the sales. One item I can't live without with my camera is a telephoto lens. With my boys in sports, a telephoto lens helps me capture that perfect shot - the determination on their face, the speed of their feet, the perfect kick. But, lenses can be mega expensive, so a sale is must-have before you put down your hard-earned money on an item that could be seen as frivolous or not necessary (although it is to me!).
I could save $100 on this Nikon AF-S DX 55-300MM VR 4.5-5.6G ED 2197. Did you get all that? Basically, this is a super telephoto lens, with vibration reduction and so much more. The reviewers give it a 4.8 out of 5, which is really good. It was $430.01, now $329.99.
If you are a professional and want the big guns, this Nikon AF-S 600MM 4.0 VR II ED 2173 is $1000 off! Regularly $10,800.08, you'll pay just $9,799.99 instead.
If you spend over $99, and with this sale, you most likely will, you'll get free shipping too.
(Expiry: 31st March 2014)