GreenMan Gaming: 75% Off LEGO Titles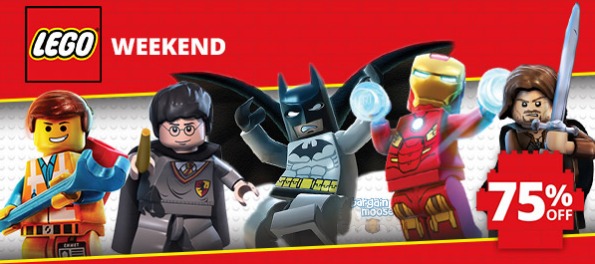 LEGO has been around for many years, but it has recently become a huge hit again with the new generation partly because of the LEGO movie that came out last year.  This weekend over at GreenMan Gaming, you can save 75% off select LEGO titles for PC downloads.
Both of my kids love LEGO so it is pretty wildly popular in my house.  All of the LEGO games that are on sale for 75% off the regular prices right now, are based on action heroes or popular movies.
If you are a huge Marvel fan, you might like this LEGO Marvel Superheroes game that was $19.99 and is now on sale for just $4.99. It features an original story crossing the entire Marvel Universe including Iron Man, Spider-Man, the Hulk, Captain America, Wolverine and many more Marvel characters.
I know a lot of Lord of the Rings fans would love this The Hobbit game that was $29.99 and is now on sale for just $7.49. It gets some awesome reviews. Here is a look at one of them.
I have played a lot of Lego video games, but this is the best of all. I mean, is the story of the Hobbit, with the extra scenes of the film (and book obviously) and with that characteristic humor of Lego franchise.

The graphics are awesome, the game play too. So... BUY IT!-  Johan's Dr.
One of the really great deals that will give you a variety of games at once is this LEGO Complete Pack.  It is normally priced at $99.95 and it is now 75% off making it just $24.98.
It includes the following games:
LEGO Batman
LEGO Batman 2
LEGO Harry Potter 1-4
LEGO Harry Potter 5-7
LEGO Lord of the Rings
At the low sale price of just $24.98, you will be paying less than $5 a game which is pretty incredible.
There are 10 different reviews in total for this collection of games and overall, it gets a 90% rating from its users.  The fact that it got a few 100% scores really tells you a lot about how great this collection of games is. At 75% off the regular prices, you really can't lose.
What kind of PC games do you like to play Moosers?
(Expiry: 7th September 2014)