Future Shop Canada: Monster NCredible NTune Headphones $74.99 (Save $50)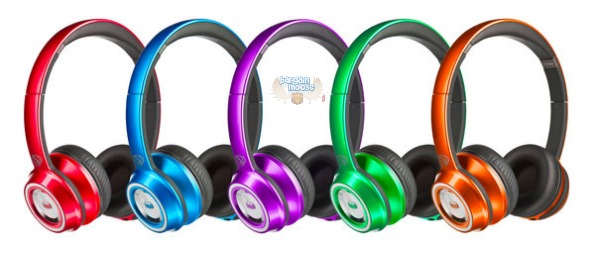 Future Shop Canada is selling these stylish Monster NCredible NTune Headphones (version three) for just $74.99, originally $124.99. You save $50 and receive free shipping as the headset costs over $25 (the free shipping minimum).
Of course, I had to do some price comparing to make sure this was the absolute best deal for you. Without further ado, here is what the competitors are charging for the same headset. Keep in mind that Future Shop is selling version three, whereas the version for most of these headsets is unknown:
$119.37 @ Amazon Canada (V2)
$149.95 @ Staples Canada
$139.95 @ Newegg Canada
$129.99 @ The Source Canada
$79.88 @ Walmart Canada (black only)
Walmart comes very close to the price that Future Shop is offering, but they only have the black in stock and they are still $5 more expensive. The other retails are pretty much blown out of the water. As to be expected, Best Buy matches the price of Future Shop because they are sister stores. Therefore, if the headphones sell out at Future Shop, you can also score this deal at Best Buy.
In these headphones, seriously, do not buy black. They have some really sexy colours out there including green, blue, and the most perfect red ever made. You could call it 'Hell Red' because it looks like hot lava or fire. The green and blue are so deeply saturated that they look like candy - ear candy!
The headphones have powerful bass, comfortable earpieces, and you can use ControlTalk to control your music and calls all from your headset. Your package will include a manual, carrying pouch, cleaning cloth, the 3.5mm Controltalk cable, and the headset itself.
One reviewer says:
I unfortunately bought a pair of over the ear BOSE headphones and lost them and really it wasn't a loss to me CONSIDERING... I just bought these Monster Headphones to replace them and I couldn't be happier! Huge sound and strong base, the best headphones I've ever had!
Ouch! What a harsh criticism on the BOSE headset but major kudos to these Monster headphones. I have owned Monster before and found they delivered strong base. However, I have previously found Monster headphones to be rather heavy so I am interested in these as they are advertised as lightweight.
What colour are you going to buy Moosers? I think I would go red as it matches my favourite rain jacket!
(Expiry: 25th September 2014)