Egg & Muffin Toasters Sale @ Amazon!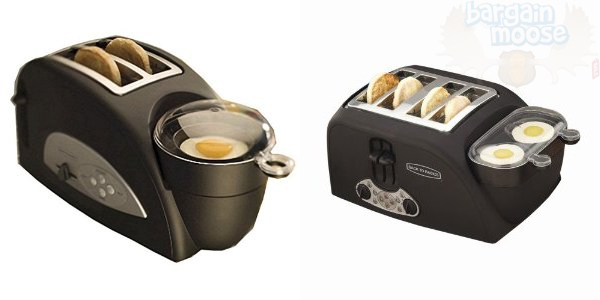 This is a first, I have never seen a device like this before in my life. It's a toaster and egg poacher all in one! And it's on sale from Amazon.ca.
The 2 slice model - regular $52.99, now $34.97.
The 4 slice model - regular $79.99, now $60.97.
Both have free super saver shipping from Amazon, of course.
And here's one of the great points about this dealio - the toast and muffins will be done at the same time! They've made it so that your muffins are kept on a warm setting while your egg finishes off. Perfect!
Admittedly, there are only a couple of reviews of these toasters on Amazon.ca (a lot more on the US site though), so you might have to google further afield if you want to read more customer opinions. But some of the reviews did make me chuckle:
Mornings have never been so great since I received this toaster.
You can use whatever bread like substance you want.
So you don't just have to make muffins! It's a regular toaster too, you can use it without activating the egg device.
All it needs now is a little slot to cook a slice of bacon too!