EB Games: Monster Game MVP Carbon Headphones Only $80 & Free Shipping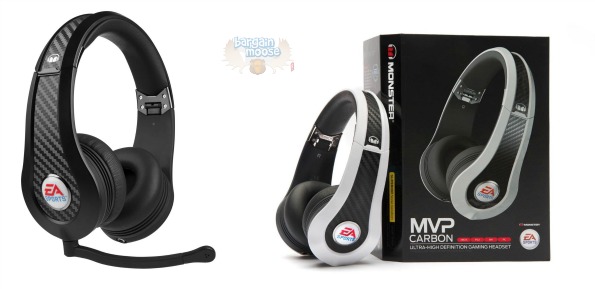 EB Games is selling the Monster Game MVP Carbon On-Ear Headphones by EA Sports for just $79.99 each. While no original price is listed, this price is well below any other retailer! You will also receive free shipping as the headset costs over $25.
I price compared this headset with several other retails. While price differs between the colours, the closest price was nearly double the current cost at EB Games. Here are what other major retailers are selling this headset for:
$224.99 (black) @ Shop.ca
$225.95 (white) @ Shop.ca
$144.97 @Future Shop Canada (final clearance)
$249.99 @ Microsoft Store Canada
$144.97 (white) @ Amazon Canada
$163.35 (black) @ Amazon Canada
Future Shop and Amazon Canada tie for the next best price at nearly double EB Game's price. This headset is a collaboration between legendary Monster and EA. The Monster Game headset is engineered for Xbox 360, PS3, Wii and PC. I assume it would also be compatible with the new Xbox One and the PS4. You can expect Monster quality from this headset.
In each box, you will find the headset, gamebox, reversible boom mic, X-box chat cable, Xbox stereo adapter, stereo audio splitter, and a headphone pouch.
Now, average ratings change depending on what website you are visiting. On EB Games, the black headset averages 3.54/5 stars with 28 voters. There are no reviews on EB Games, but I did pull one off Amazon.ca:
I'm a gamer (more single player than multilayer) and I've been looking to purchase headphones that I can use to immerse myself more in the game. These headphones don't disappoint. The surround is incredible and it comes with cords to attach to any console giving a whole new layer to playing intense survival games such as The Last of Us. I also love how the headphones also sound EXCELLENT with movies and music.
He also goes on to say that the headset is very comfortable, has excellent sound quality, and is a great value with the extra cords included (and the multiple-uses for the headset). From listening to music to gaming - this headset will be a versatile addition to your home. I like that the boom mike is detachable for when you are not gaming. My Turtle Beach gaming headset did not have that option so I had to tilt up the mic each time I wore the headset.
Overall, I think this is an excellent buy.
(Expiry: unknown)