Dell Canada 12 Days Of Deals Is Back!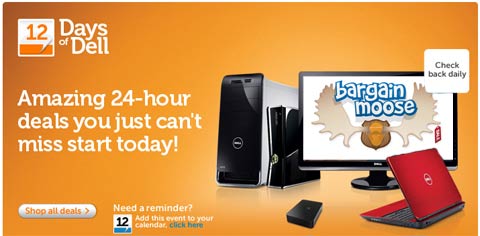 Just got word of a new sale event which is happening online at Dell Canada right now - their 12 days of deals! Dell have these events about 2 or 3 times a year, and there are almost always things that I want to buy.
The highlighted offer on the first day is the Dell 24" widescreen monitor for $159.99. That's a great price for a huge home monitor. Well, huge for normal users! I'm using a 27" Dell, beside a 24" Dell, so I've got loads of screen space.
There are many more offers available today from Dell Canada, actually 12 in total. And remember that they all come with free shipping. Highlights:
And I am also going to put a little Dell badge in the Bargainmoose sidebar during the 12 days of deals, both to remind myself to go look at the new offers every day, and to prompt you to do the same. Wouldn't want to miss out on a hot deal!
(P.S. For those of you subscribed to the daily Bargainmoose email updates, as they can only be sent once per day, you might be missing out on the short-lived offers. Stop by Bargainmoose a few times a day to make sure you get the best of the best.)