Dell.ca: Cordless Optical Mouse for $14.99
This is a great deal, and I remember the last time dell had cordless optical mice for this cheap I bought one and it is still going (just have to recharge the batteries).
The DEAL: Logitech V220 Cordless Optical Mouse for $14.99 originally $35.99 (you save $21!)
You can get this mouse in two different colours: Blue Flourish or Blush Butterfly. If you are looking for a small mouse to just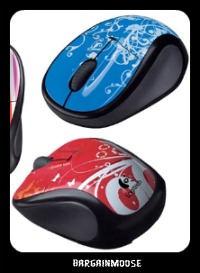 stick in your computer bag to travel with you and that doesn't cost a lot, this could be your mouse! I really like both colours, I can't pick a favourite!
This mouse is $31.99 on TigerDirect.ca, and $20 on Amazon.com (+shipping) and on Amazon.ca it was $25.59 + $8.48 shipping as it was not in stock but rather in the marketplace. At Best Buy they are $29.95 and at Future shop they currently have the blue on sale for $19.99 (but no red (blush) one). No matter where I looked, Dell is by far the cheapest!
I have no clue when this sale ends, so if you want one.. get it quick!