Cyber Acoustics Subwoofer Satellite System was $56 now $29 @ Amazon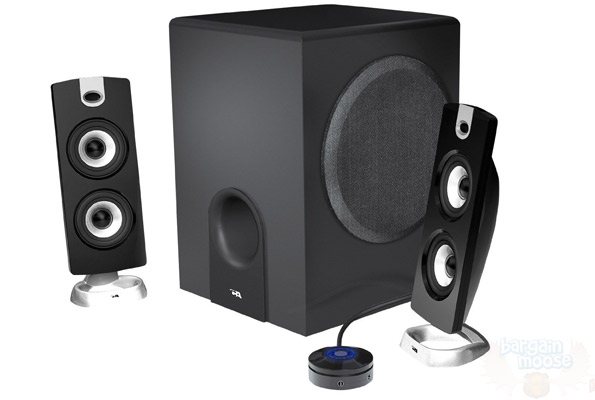 If you're looking for a new set of speakers for using on your computer, or perhaps to dock an mp3 player, consider this Cyber Acoustics Subwoofer Satellite System from Amazon.ca - it's only $29!
Don't order these if you are in a mad rush for a new set of speakers. The estimated delivery is one to three weeks, so it's a little bit slow. But it IS free shipping. :)
I did a quick price comparison to see how good the Amazon price was. I found these speakers for $55 at NCIX, $50 at 123Inkcartridges, $50 at Dell, $41 at DirectCanada, $46 at A-Power, $41 at Tigerdirect - so $29 including shipping from Amazon is pretty hot.
A quick word about what you are getting:
Three-piece speaker system with two satellite speakers and subwoofer
Acoustic balanced wood cabinet subwoofer
Desktop control pod controls power, volume, base
MP3 cradle
The first comment from one of the reviewers pretty much sums up my opinion about this deal:
This CA 2.1 system is great for its price and a definite step-up from the crummy in-built and low end speakers.
They'd be handy if you want to set them on a home office desk to attach to a laptop - giving much better sound quality there. Most reviewers give it either four or five stars out of five - a pretty good rating.
(Expiry unknown)