Canadian Deals: Best Buy Discount – Up To $100 Off On Sunday Night!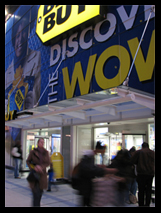 On Sunday evening through to Monday morning, Best Buy Canada is running a special discount promotion online. You can get the following reductions:
Where: Online @ BestBuy.ca
Starts: 6pm EST on Sunday the 2nd of November, 2008
Ends: 10am on Monday the 3rd of November, 2008
What:
$10 off a $50 spend
$25 off a $250 spend
$100 off a $1000 spend
To get these discounts, just add your selected items to your shopping cart online, and you should see the discount appear automatically. It's running for quite a short time span, but should be long enough for you to make your purchases!!
I've just bought a huge 42" Plasma TV so I'm not planning on spending any more money any time soon!!!
Cheers for the image Ian Muttoo.