BestBuy.ca Sale – Discounts on TVs, Audio, Laptops & loads more!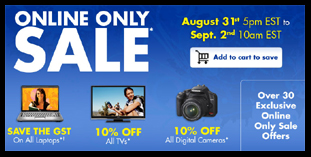 Here we go with an online only sale from Best Buy Canada!! It will commence at 5PM EST on Sunday the 31st August. It is due to finish at 10AM on the 2nd September, 2008. There are loads of discounts… too many to list here, but some examples for your viewing pleasure:
-

Save the GST on all laptops
-

25% off all laptop accessories
-

10% discount on all TVs
-

10% discount on all digital cameras
-

Loads more!
To get access to this extra discount, all you have to do is add the items to your cart and you will see the discounts appear there. I've been thinking about a new TV, I really fancy a large LCD screen…. I'm tempted to splash out!
- Anna