Best Buy Canada: Jawbone Up - Now $40 & Free Shipping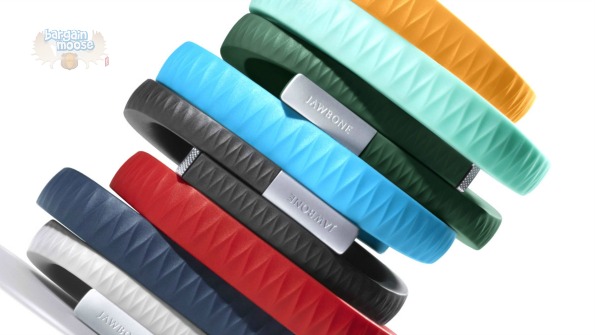 Best Buy Canada is offering $10 off the Jawbone Up entry-level fitness tracker. Currently priced at $49.95, this fitness tracker is on sale for only $39.95 with free shipping.
Only select colours and sizes are still in stock. I have compiled a list here:
Small and large are still available, but medium is out of stock. I am not sure what the difference is between the large Onyx and the large black as Best Buy Canada fails to give model numbers. In fact, price comparing took forever because there are just no model numbers, yet the prices for the Jawbone Up can vary widely. I had to be careful not to price compare against the Jawbone Up24 - which is a newer version.
Best Buy Canada has the most reasonable price on this device by a long shot. When I started price comparing, I could not believe the price of these fitness trackers on other websites. The Jawbone Up costs:
$139.99 @ Sport Chek Canada
$119.97 @ Staples Canada
$79.99 @ Best Buy Canada
$60 @ Chapters Indigo Canada
Prices at these and other places vary depending on the size you want. Best Buy Canada has the same price for both the large and the small Jawbone UP Activity & Sleep tracker. Reviews vary from five stars to one star. Some people have problems with the sleep function. If you move around too much, then the device things you are awake and stops tracking your sleep.
I checked back on these Jawbone Up devises. They originally retailed for $129 as mentioned here, but have had a price reduction since then. Now the devices are only $40, which is less than half the original price. We have seen a deal like this once before, when Margarita posted about a one-day sale at Future Shop.
This may be a very base model for a sleep and fitness tracker, but it is a great way to test out the technology before you invest $100+ into a device. For $40, you can get a peek into how well you are doing each day and how well you are sleeping each night. For $40, I think this device is well worth purchasing.
(Expiry: 9th April 2015)