Best Buy Canada: Insignia 12" Retro Table Was $100 | Now $40 (EXPIRED)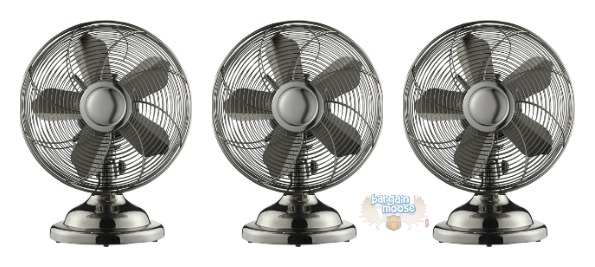 Today I am going to die as it is supposed to get up to 30+ degrees here in Nanaimo. My best friend is fan #1 and my second best friend is fan #2 and the runner up is my ceiling fan. If you need a new fan, pick up this gorgeous Insignia 12" Retro table fan from best Buy Canada. Originally $99.99, this metal fan is on sale for $39.99. Receive free shipping as this product is over $25.
My fans are plastic, which is okay as they do their job but it is not exactly my preference. I like the look of metal. I like how metal is cool to the touch. Most of all, I like the durability of metal. If I kick my little plastic fan over, it is quite liable to break or at least get a split. Metal fans are durable: you can accidentally kick one and your foot will hurt more than the fan ever will.
The Insignia 12" table fan features three fan speeds and oscillates. I am a lover of oscillation as i like to lie in bed with the fan blowing over the entire length of my body and then back again. Interesting enough, this little unit even includes a thermostat. It is a cool feature but we all know if you are using a fan then most likely 'too hot' is the only temperature you need to know: and you already know it.
I could not find this fan elsewhere in Canada but I did find that the fan has a $49.99 USD MSRP at Insignia. That is about $61 CAN, so I would say Best Buy's regular retail price is a bit inflated. However, we have to remember that import goods often cost more up here than down in the USA.
As a child, I lived in front of a fan for the most part, and it was not because summers were hot. It was because I was often sick and ran a temperature. It seemed my permanent place was on the couch with my Raggedy Andy sheets and the fan blowing over me. I took comfort in that sound and now sleep with a fan on every single night. Let's just say that a fan lasts only four years in my house.
Given the recent heat wave, I figured this was a pretty nice deal on a good looking and function fan.
(Expiry: 2nd July 2015)