Best Buy Canada: Digital Dollar Discount Codes!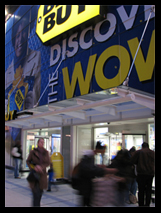 Best Buy Electronics release these "digital dollar" coupons every now and again, to get you extra discounts on your online purchases. Here are the most recent coupon codes:
COUPON10804184116456 = $10 off $100+
COUPON25804202749427 = $25 off $250+
COUPON50804221382398 = $50 off $500+
As you can see, you can get up to $50 off your purchase.
How to use:
Go to the Best Buy store online, add some items to your cart, and go to it. Towards the bottom right you will see a link saying "Use Digital Dollars". Click it, and input the appropriate promo code when the page loads.
Sadly, Digital Dollars don't work towards the purchase of gift cards!
UPDATE - will be active between December 11th and 23rd, 2008.