Bargainmoose Contest: NCIX Christmas Gifts – Win $$$ in NCIX.ca Gift Cards! (Day 2: $50 Prize - CLOSED)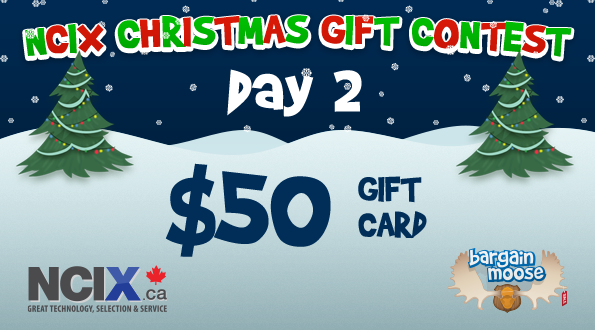 *** Contest now closed, winner was Mooser Andres! ***
Yesterday, we started a new contest here on Bargainmoose, in which we are giving away over a thousand dollars in NCIX gift vouchers! If you missed out on the contest on day 1 to win the $25 NCIX gift voucher, then you'd better get in here to try your luck for the $50 gift card today. Over the course of this seven day contest, the prize will be increasing in value day by day, so make sure that you come back each and every day to enter this fantastic giveaway from NCIX.
As I mentioned yesterday, NCIX sell a huge range of electronics, accessories, computers and computer components, and often have great deals thereon. Right now, in their super santa sale event, you can see that there are lots of hot deals to be had. Here are a few examples:
Some more info about NCIX:
Now, on to day 2 of the NCIX Christmas gift contest!
Prize today: $50 NCIX gift card
How to enter day 2 of the NCIX contest:
Answer this question in the comments below on Bargainmoose.
What would be the ultimate NCIX gift for a girl?
Have a browse of the site and choose an item that you think would be good! Leave the link and the item price in your comment.
Bonus contest entries:
Leave a link to this NCIX contest on Twitter, make sure you put @bargainmoose in your tweet
Re-pin this contest on to your Pinterest, and follow us there too
Post a link to our NCIX contest on your Facebook wall and share with your friends, make sure you like Bargainmoose
Come back!
Don't forget that we'll be giving away an even larger NCIX gift card tomorrow!
Rules:
Canadian entrants only. One type of entry per household. NCIX prizes limited to one per household. Ends 13th December 2013, 11.59PM EST. No purchase necessary. Odds of winning depend on the number of eligible entries received. Duplicate, incomplete or illegible entries will be disqualified.