Are You The 'Cord-Keeper' Of The Family? Help Is Here! $14 @ Amazon.ca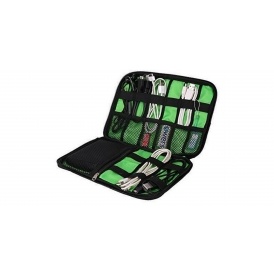 If you're a mom or dad, I'm pretty sure one (or both?) of you has been delegated as the official 'cord-keeper' in the family. You might have a different name. Maybe they call you 'The Person Who Finds Everything In The House.' Whatever the case, you've suffered enough and owe it to yourself and to your family, to put an end to all (I mean some) of the chaos.
Note: This will not help you find your missing single socks. Or your missing cutlery—no, sadly those items are gone, gone, gone... (they've been gone so long, they've been gone gone gone so long.) Chilliwack would know all about that I guess.
On a serious note, I would find so many uses for this organizer. This fabulous Universal Cable Organizer is selling for $14, down from $25. I love it! No matter how many times I gather the cords and cables in our house and secure them with an elastic band, they refuse to stay like that. They always 'party' in the organizer bin that I keep them in. Maybe my playlist on Spotify is just too cool, I don't know.
This cable organizer case would be the end all be all for messy cords and cables. Imagine—organized and contained, no more cord chaos in the house. Just like Mary Poppins, a place for everything and everything in its place. You really can conquer your cord and cable mess!
Amazon.ca offers free shipping when spending over $25 on eligible items. Ordering two of these organizer cases is the perfect solution for remedying your family's cord mess, since you would receive free shipping. Otherwise, shipping starts at only $4 on one case!
Deal Expiry: Unknown