Amazon Canada: Proscan 48" 1080p LED TV & Roku Stick Was $700 | Now $300 (EXPIRED)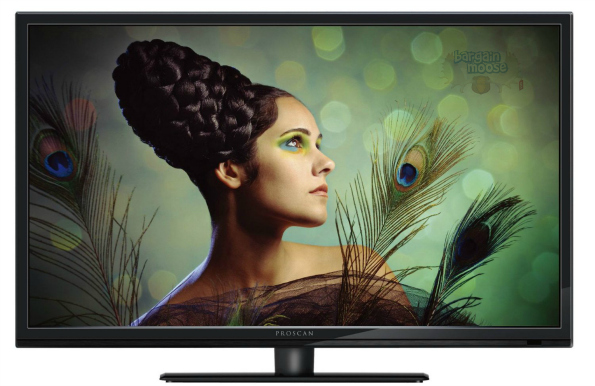 Are you looking for a large HD TV that doesn't cost you very much? The Proscan 48" 1080p LED TV with Roku stick is on sale from $699.99 down to $299.99 today only! As this TV bundle costs over $25, shipping is free.
I tried to find this television on other sites but that was hard! I ended up price comparing against Amazon.com where the television with Roku retails for $499.99 USD. Given the price is $200 more even before the currency exchange, this is a pretty hot deal.
Let us get into the nitty-gritty details now. This is a 48" LED full HD TV that comes with a ROKU Streaming Stick. With the Roku, you can stream 1000+ chanells including Netflix, Hulu, HBO, Pandora, and more. I assume you can also stream YouTube to the device. The ROKU stick fits into the MHL port on the television - no extra cables are needed. It has a dual band wireless compatibility to easily connect with your home wi-fi network.
The television itself has the following connection ports:
Three HDMI ports
MHL
VGA
YPBPR
USB
AV Audio/Video
PC Audio
Headphone
Coaxial
RF
Now, there is a discrepancy between Amazon's website and the manufacturer's description of this unit. In my wanderings, I found this PDF document advertising all the features of this exact same TV & Roku bundle (I compared Model numbers, they are the same). According to Amazon Canada, this TV has a refresh rate of 60Hz but according to the manufacturer, this television has a refresh rate of 120Hz. I tend to believe Amazon made a mistake on this - but I cannot be certain.
There is only one review of this product so far, but it is quite positive. They say the picture is comparable to high end televisions, the sound is fantastic as it offers surround sound, and the Roku to TV compatibility is flawless.
For a 48" SMART TV, you just cannot do much better than this price. I have never tried Roku personally, but it is a lot like the Chromecast, which I just adore. If I ever get television again, it will be in the form of Netflix streamed directly to my television. I will never purchase cable again.
This deal is available TODAY only!
(Expiry: 19th June 2015)