Amazon Canada: $10 Amazon Credit & $20 Google Play Credit & Free Movie with Chromecast Purchase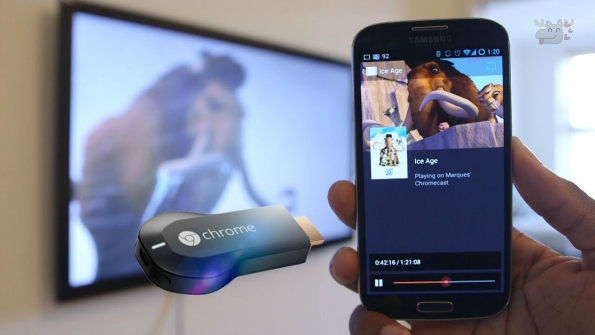 Amazon Canada is offering $10 Amazon credit when you purchase a Google Chromecast. In addition, you will receive $20 Google Play Credit. Given that the Chromecast only costs you $39, I think this is a pretty hot little offer! This offer is limited to one per customer and account.Receive free shipping on your Chromecast.
Google Chromecast is the ultimate way to turn your television into a Smart TV, therefore saving money on entertainment. You can 'cast' from your PC, your smartphone, and your tablet to the Chromecast to watch shows, browse websites, and more. I end up just putting on a load of music videos on YouTube and watching them in high-definition on my television. I can also cast TV shows and movies turning my television into an extension of my mobile devices.
Best of all, the Chromecast is family friendly. Family members can join each other on the Chromecast and create playlists by each adding in their own videos. This is pretty cool on YouTube when you are sharing music and more with those you love. I find that Chromecast is more compatible with Android but the iPhone still does well (I have one).
Now, you will receive a $10 credit when you checkout. Beneath the total on the last page, you will see this qualifying offer: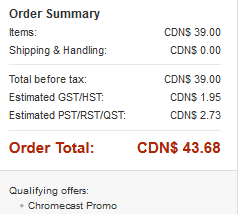 Now, the Google Play credit will be available when you sign-in through your device for the first time and visit 'offers'. You can also visit Google Play offers for the Chromecast via your browser. You will need to have the Chromecast in hand (and plugged in) before you can redeem this part of the offer. However, it is advertised here (see image) and Amazon Canada is pretty reliable when it comes to advertising deals:

Here are some of the other current offers available for the Google Chromecast:
One free movie rental (for their 2nd birthday)
90 days unlimited music with Deezer Premium+
30 day trial of Crunchyroll Premium
90 days of unlimited music with Google Play
Google Chromecast also has deals throughout the year. You will often receive bonus Google Play credit around holidays and for their anniversary. This is a great and inexpensive little device you need for your home.
(Expiry: 31st August 2015)