Amazon.ca: Sennheiser RS-116 II Wireless Headphones Only $69 & Free Shipping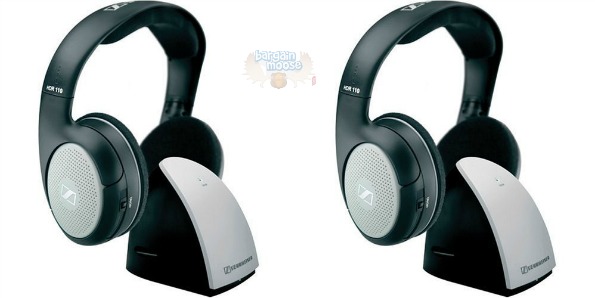 Amazon Canada has discounted the Sennheiser RS-116 II Wireless Headphones from $139.99 down to just $69. Sennheiser is a great brand and this is now a very affordable way to purchase a wireless headset.
I have been watching wireless headsets for a bit now as I find wires somewhat inconvenient when travelling. They can get tangled around stuff in my backpack and are often a nuisance to fish out when I wish to listen to my music. I also like the idea of not accidentally pulling my headset askew by side-swiping my cord while I am handling grocery bags or shopping bags.
I price compared this headset with other fine retailers. Currently, this is what the Sennheiser RS-116 Wireless headphones retail for elsewhere:
$119.99 @ Future Shop Canada
$119.99 @ Best Buy Canada
$109.93 @ Staples Canada
$139.99 @ The Source Canada (in store)
I also looked back on Bargainmoose to see if we featured this headset before. Back in September we blogged about the RS-116 II headset on sale for $79.99. As far as I know, Amazon's price is the cheapest this headset has ever been.
The Sennheiser RS-116 II Wireless Headphones are an open, supra-aural wireless RF headphone system. The headset uses AAA batteries, for which you will probably want to own rechargeable batteries. It would be best to run with two sets of batteries; the ones you currently are using in the headset and a spare set that is charging (or charged) and ready to use when these run down.
The reviews on the headset are quite positive. One person was so pleased he could finally listen to his TV programs without his TV blaring and annoying his neighbours. Another reviewer has owned these for six years and gave them a raving review:
The sound quality is fine. There is a slight hissing sound that you only notice between tracks. Occasionally there will be a little interference, but that's rare and only when you're far away from the transmitter. The headphones are light and comfortable. I sometimes forget I'm wearing them. What really makes these amazing is the range.
For a set of wireless headphones from a brand such as Sennheiser, this is a very good price. In addition, you will receive free shipping on all orders of $25 or more so the headset will ship for free to your home.
(Expiry: unknown)