Aluratek Libre 5" E-Book Reader Pro $139.99 @ Newegg.ca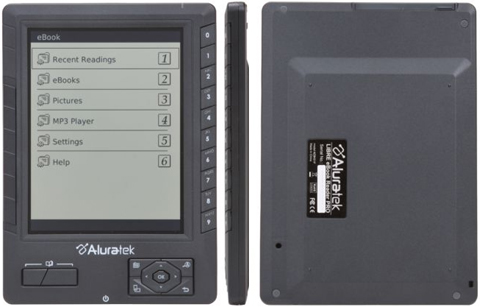 Are you a bookworm? I used to be... but now I am an ebookworm! I love my Sony ebook reader, and I usually keep my eye out for this type of hardware.
I've spotted a decent deal on this Aluratek 5" ebook reader at Newegg Canada. They're offering this item for only $139.99, which is a $50 discount on the regular price.
In the picture above, it doesn't look quite as sexy as my Sony, but the styling of the menus seems very similar.
The majority of the reviews on Newegg.ca about this Alurtek ebook reader are positive, with most customers giving it a rating of 5/5. Over on The Globe And Mail, they give it a positive review too, but say that it isn't as good as the Amazon Kindle, but it's a bit more expensive.
I'm not sure how long the deal will last for on Newegg.ca.