Sugar Sync: Save 75% Off 1st Year & Access Your Files Anywhere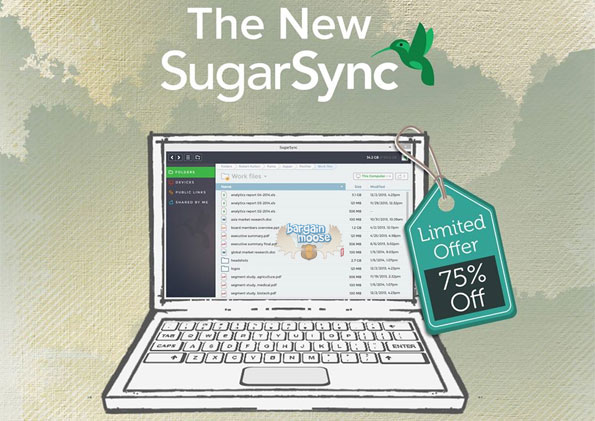 Back up and access your files anywhere you want with SugarSync and save 75% off your first year!
For anyone who is on the computer a lot, a service like SugarSync is definitely a must-have because on top of backing up any files you want, it also allows you to retrieve any file whenever and wherever you want. If decide you want to back up a movie folder on your laptop and then later in the evening decide to watch a movie from that folder on a different computer, then you can simply open the SugarSync program and voila, your movie will be right there. This way, you won't need to waste any time looking for an external hard drive or flash drive, and waste even more time while it transfers over, etc.
In fact, with the time to go back to school right around the corner, this could also be perfect for students. When I was a student, there was nothing more annoying than to be running late for class, only to realize that I hadn't transferred an important essay from my computer onto my laptop. SugarSync, however, could be programmed to continuously back up a specific folder (or multiple), so that way, you won't ever have to worry about having to transfer files, or worse yet, losing any files in case your computer decides to stop working!
What's cool about SugarSync is that if you're on the go, you can also access your files via an iOS or Android device.
SugarSync is also available for businesses. Depending on the plan, it can allow more than one user to access specific folders to make the task of file sharing a much simpler one.
Personal
60GB: reg. $74.99 / now $18.75 (for the first year)
100GB: reg. $99.99 / now $25 (for the first year)
250GB: reg. $249.99/ now $62.50 (for the first year)
Business
1000GB & 1-2 users: reg. $550/ now $137.50 per year
Custom for 3+ users: must call for rate
Arguably, SugarSync most certainly isn't the only such service in its field as there are numerous other sites that offer the same exact kind of file back up services but with this discount, you're definitely looking at much lower prices than their competitors. Carbonite and Backblaze, for instance, are much more expensive per year: while the former is $59.99, the other is $50. Since SugarSync becomes more expensive after a year, there is also the option of switching over to one of their competitors when your time expires but at least for a whole year, you would have paid significantly less!
(Expiry: Unknown)