Yoga Mats & Towels By Yoga Design Lab | Free Shipping!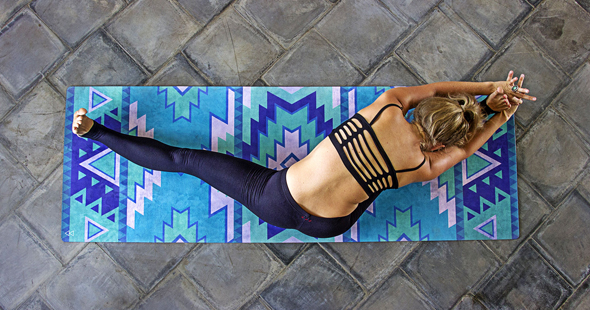 If you practice yoga regularly, you know how important a good, quality mat is. If you're looking to start, you'll soon discover this fact. I've gone through far too many of the cheap ones in the past; they tend to be thin and very slippery. I had one that left little purple chunks on my clothes every time I used it! Anyway, I came across these wonderful mats designed by a Canadian and I wanted to share them with you guys in case you're on the lookout but unsure in which brand to invest.
Yoga Design Lab was created by a Canadian while participating in a yoga retreat in Bali. He hated the look of room full of mass-produced, plain, unoriginal mats and decided that there must be a way to create a beautiful product that was also functional and environmentally conscious. In my opinion, he succeeded.
Bio-consciousness is extremely important to Yoga Design Lab. The mats are produced using biodegradable natural tree rubber and printed with water-based inks. They also donate $1 from every purchase to yoga programs for urban youth in need.
Their Hot Yoga Towels are mat-sized and can be used for both regular and hot yoga, so don't let the name fool you if you prefer your practice slightly less humid! As I mentioned, they're printed with eco-friendly inks and are:
lightweight
super absorbent
quick-drying
NON-SLIP!
Can I tell you how scary it is to be attempting a balance or inversion pose and have your feet or hands slide out from under you? Not good! There are ten gorgeous designs. My favourites are Collage, Fantessa and Geo Blue. Each Hot Yoga Towel is $47 (taxes included) and ships completely free of charge
Now, for the big guns. Their premium Combo Mat is $88 (including taxes and shipping) and is ideal for serious hot yoga practitioners. It's a mat/towel combination so you don't need to worry about bringing both to class; it was specifically designed to reduce slipping and injuries. They are machine washable and include a carrying strap and there are 17 designs to choose from. I'm partial to the Aegean Gray.
You can absolutely pay $20 for a yoga mat for occasional home practice (just keep them away from your dogs; I speak from experience) but high-quality mats that are designed for total comfort and safety and made to last are, unfortunately, more pricey. Most will run you at least $75 (before taxes), especially those designed for hot yoga but I wanted to share these in the event you are looking to upgrade and/or invest. Feel good about supporting a socially- and environmentally-conscious company with Canadian roots and receive an incredibly high-quality product in exchange. Win-win!