Women Clothing Today Canada: 15% Off Pashmina Scarves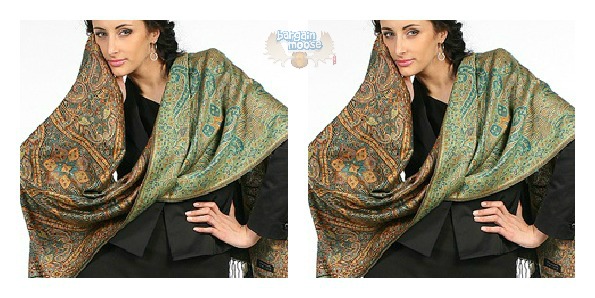 Women Clothing Today Canada has their Cashmere / Pashmina Scarves and shawls on sale. Listed price already reflects discount. Offer is valid for a limited time only while supplies last.
These scarves and shawls are quite beautiful, made of either 100% cashmere of pashmina wool or a blend of wool and silk, they are the ultimate in warmth with a luxurious feel.
This 100 Percent Cashmere Scarf 61 is multicoloured with a lovely shade of mink in a swirl pattern, really quite stunning. This is listed at $17.75.
There is also this 55 Percent Pashmina 45 Percent Silk Scarf 13 that is $10.75. The colour seems to be a blend of browns, coppers and white and would be alright as a casual dress or perhaps an evening accessory.
I think my favorite out of all the scarves would be this 70 Percent Pashmina 30 Percent Silk Scarf 72 for $11.50. The scarf is very lightweight and quite long so it can be worn many different ways. The colour is a beautiful orange shade although I'm not sure I like the tassles.
Shipping: Free for orders over $75, items ship from US and prices are shown in US dollars.
(Expiry: Limited time only)