Swim-Shop: Hydro-Fit Buoyancy & Resistance Cuffs Were $80 | Now $32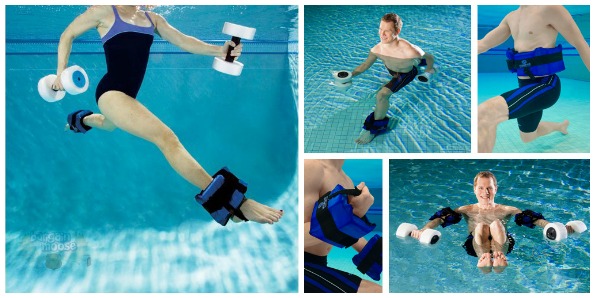 Hello swimmers and aquasize lovers! These Hydro-Fit Buoyancy and Resistance Cuffs were originally $80, and are now on sale for $32 at Swim-Shop Canada.
When it comes to swim gear, price comparisons are a bit difficult as there are few online Canadian shops that sell true athletic swim gear. I had to price compare this set in the USA instead. Keep in mind that this is the price at USA swim retailers, is in US currency, and would not include shipping or duty:
$50.55 US @ Aquagear.com
$54.95 US @ Hydrofit.com
I could only find them at a few online retailers, but Swim Shop's price was the best compared to anywhere else. These Hydro cuffs are a multi-use tool for swimming and aquasize. You can use them on your ankles, on your arms, or join them together to put around your torso. They both help keep you afloat in the water and offer added resistance (through drag and weight) so your body is forced to harder during your swimming or workout. Both on amazon.com and through some of the US websites I found very good reviews:
These are a GREAT way to get a good workout in the pool. You can jog, dance, or even do arobics with these "water booties". They are well built. I am in my second season swimming 3/4 days a week with them. They offer variety from lap swimming and you don't even have to get your hair wet!
and...
Honestly I think these cuffs are the most clever tool ever created for any aqua fitness work out. Not only do the cuffs give your variety on how you can use them, they are user-friendly and easy to change out to use one of 4 ways, and because they're so versatile, it cuts down on having to carry bulky equipment to the pool. Brilliant!
You will, of course, need to pay for shipping on these and they are bulky so that will not be cheap (my estimate to Vancouver Island was $18). Shipping costs depend upon where you live. You can add on other stuff from the sale (granted it is not too big or heavy) to spread the shipping charge out over multiple items. I suggest the Cressi Light - Swim Fins that were $38 and are now $15.20, the TYR Mentor Hand Paddles that were $34 and are now $13.60, and TYR Technoflex Vision goggles that were $17 and are now $6.80. There are so many great sale items at Swim-Shop that I could get lost on their website for hours.
(Expiry: unknown)