Simons Canada: 66% Off Icone Deck-Chair Stripe Dress (Now $20 | Was $58)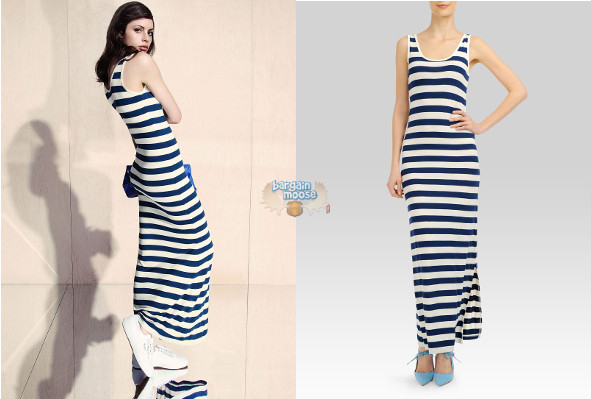 Got a deck? Even if you don't, you can definitely still rock the Icone deck-chair stripe dress, especially since you can get it for 66% off at Simons right now. Instead of its usual retail price of $58, you can get it for just $19.99.
Lately, I have been absolutely obsessed with Maxi dresses but although my post-pregnancy body isn't quite ready for those yet, I'm actually considering getting this one as motivation to hit the gym. I figure I have nothing to lose given its price.
Having just moved into a new place that has a backyard and enough room for a patio desk and a barbeque, I can definitely see this dress as being a staple of my summer wardrobe (one I can fit into it, of course). The white and blue stripes have a nautical feel to it, which could also make this dress perfect for sitting by the water.
Since it's available in every size (medium to extra-large) except for a small, I also found a great deal on the Twik white floral jewel dress. This one, however, isn't available in an extra-large but it's actually as much as 80% off its original price of $50, putting it at $9.99. Featuring a very simple, yet elegant design, I can see this dress being appropriate for any kind of casual event or even an evening dinner because its long sleeves would make it to hot to wear during the day.
I also spotted this absolutely fabulous-looking Twik quilted straight skirt, which has a bohemian vibe to it. Originally priced at $38, it's now just $4.99 and even has two pockets. I'm guilty for not incorporating enough colour into my wardrobe, so this would definitely add the right amount of pop, although it should probably only be worn with a solid-coloured top like the Twik lace-detail cami in white on sale for $4.99 (reg. $20). Its on the shorter side but I actually prefer it that way for the long summer days.
Did you know that both Icone and Twik are exclusive brands of Simons, also known as La Maison Simons? They actually have a variety of other brands, which you can check out at their Universes page.
Shipping is at a flat rate of $4.99 for any order size but luckily, returns are absolutely free in case something doesn't fit.
(Expiry: Unknown)