Reitmans Canada: Save 30% On Already Reduced Items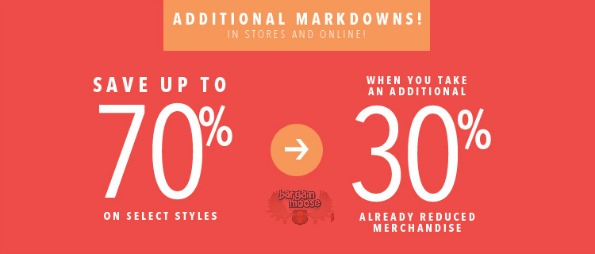 Reitmans Canada is offering an additional 30% off already reduced items, a savings of up to 70% total. Offer valid only on sale items only, both in-store and online. Does not apply to jewelery or watches and available for a limited time while quantities last.
These sale items are all well priced, but there are only a few sizes in each left so look around and see what you might like that is available. It's worth it for the extra 30% in savings.
I found these comfy Belted shorts available in my size and priced at $16.09, sale price $22.99. I also found these Original Comfort Capris price at $20.99, sale price $29.99 and also available in my size.
How about an Original Comfort Denim Skort, priced at $20.99, sale price is $29.99, or this cute Printed cocktail dress, priced at $27.99,sale price $39.99 with quite a few sizes still available.
I really didn't see anything in the way of tops, just a couple of different Short sleeve blazers, priced at $27.99, sale price $39.99. These are also still available in a few sizes. Blazers aren't really my thing, but I'm not the only one shopping.
I do really like this Peasant skirt, priced at $13.99, sale price $19.99 and still available in almost all the sizes. These skirts are great for spring, summer and fall as I find they keep you warm when it's cool and cool when it's warm.
There isn't a great quantity of items left in the sale category, but you never know, they might have that item you've been looking for and why not get it on sale.
Shipping: $7.50 and takes 5 to 7 business days