Picaboo.com (U.S.): $20 For 15x10 Gallery Wrapped Canvas (Save $60)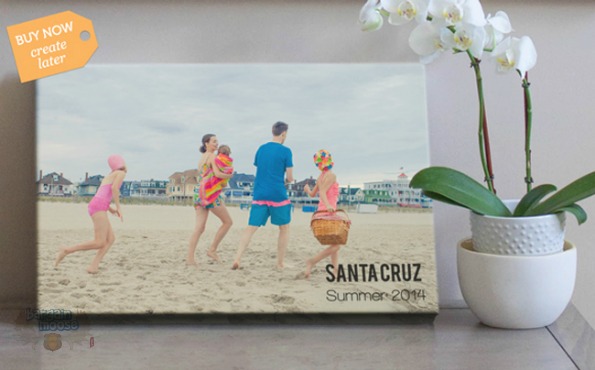 Picaboo.com is back with 75% off a 15" x 10" canvas for your walls. Originally $79.99, you can buy the gallery wrapped canvas for only $20.
You are not purchasing the actual canvas itself, rather you are purchasing a voucher, which is even better. With a voucher, you have the option to redeem it now, if you already have a good picture in mind, or to redeem it later when you have had time to collect more summer memories and photos. The promotional value of the voucher ($60) expires on the 13th of November 2014. That is the day before my mother's birthday! The paid value ($20) never expires.
This voucher can only be redeemed for the aforementioned gallery wrapped canvas. Taxes and shipping are not included in the voucher price. I checked on the price of shipping to Canada for a 15" x 10" canvas, and it costs $9.99 for the cheapest method. Still, you are getting the entire bundle including shipping for $30 USD.
I own five gallery wrapped canvas prints. Two are ones I made myself: one of flowers and the other is of my husband's and my first dance at our wedding. The other three canvas prints are all from one of my favourite artists. I prefer canvas to framed prints for many reasons, with the primary reason being cost. It is so expensive to get prints framed, moreover if they are large prints or not standard sizes. However, canvas prints come ready to hang because of the built-in wooden frame. You don't even need to hang them; they look perfectly fine leaning up against the back of a shelf or on top of a mantel. There also is no glass to break. Sure, canvas can be a bit fragile (keep knives and claws away), but all five of mine successfully made it through my move from Edmonton to Nanaimo without a scratch.
This voucher cannot be combined with any other offer and there is a limit of one voucher per order. As with all projects, make sure you do the following four steps before placing your photo order:
Check the safety zones for important bits cut out
Proofread your project for spelling and grammar mistakes
Use the preview mode, as what you see is what you get
Avoid using low resolution images
These four steps will help you get the beautiful gallery wrapped canvas print you want.
All prices are in USD.
(Expiry: Unknown)