Nudy Patooty Coupon Code: Exclusive 15% Discount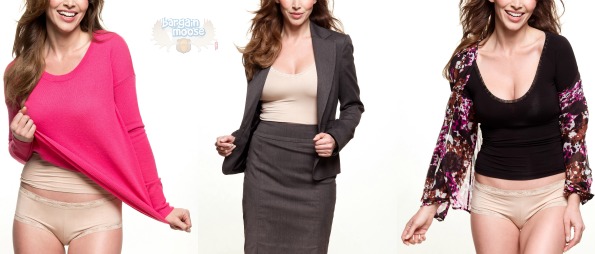 I have introduced Nudy Patooty once before, where I mentioned they make bamboo undershirts for women with reinforced underarms. The reinforcement acts as a sweat barrier between you and your clothing to prevent staining and unsightly sweat marks on your clothing. Nudy Patooty has graced us with an exclusive coupon code for 15% off their entire website.
Click here to shop @ Nudy Patooty Canada now
Coupon Code: BARGAINMOOSE-15%
Discount: 15% off
Expiry: 14th February 2015
I own four of these shirts now, and every time I decide to wear my favourite dress shirt without one of these lovely bamboo shirts under it, I really regret it. Just this last Sunday, I went traipsing around Victoria in a blue and white stripped cotton dress shirt with no undershirt and now the underarms have that horrible yellowish tinge. It is going to take me ages to get that out. It is my fault really. The Cap Sleeve Undershirt is perfect for wearing under dress shirts. The light colour of the 'nude' does not stand out and the delicate lace trim at the top even looks cute if you have a few buttons open on your shirt. I own one of these and the fabric feels amazing against my skin. The material breathes and keeps me feeling dry and cool. One shirt costs about $48 US right now, but will come down to $40.80 US after coupon.
I own Nudy Patooty shirts in black and in nude, so I was excited to see a new colour option: white. As I mentioned before, I am eager to add the new Cropped Short Sleeve to my own collection and I would purchase it in white and maybe in black too. I love to wear my Nudy Patooty shirts to bed because they keep me comfortable all night. However, I do not like my stomach covered. I think the cropped shirt sleeve will be the perfect top for me to sleep in at night as it will still give me the coverage I desire over my chest and the sweat protection I need, yet it will not ride up on my stomach. The shirt retails for $44 US, but comes down to $37.40 US after coupon.
All Nudy Patooty shirts are made in Canada so you are supporting local manufacturing. Orders of $100 US or more will ship free but orders under that minimum cost $12 US to ship. All billing is, unfortunately, in USD.
For this and future Nudy Patooty coupon codes, visit our forum.