Michi NY Canada: Up To 50% Off Select Items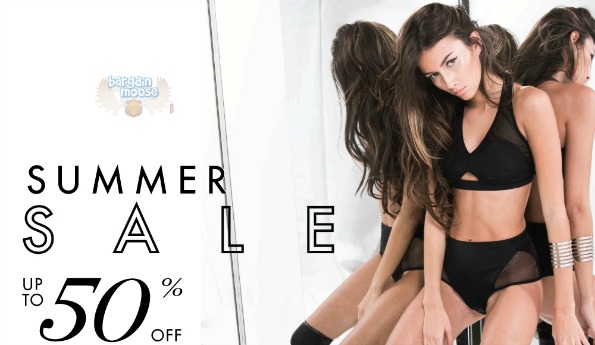 Michi NY is offering up to 50% off select swimwear and athletic wear.
They do not appear to have a separate sale section, so you just need to weed your way through their full list of items to find the sale items. They are pretty well marked so you should not miss any.
Michi is my favourite athletic wear company. They build quality gear in out of this world designs. Other athletic wear companies should take note of their amazing styles and sweet details on each piece.
The Helix Bra in black/nude is the sports bra I keep almost buying whenever I see it discounted. I do not like the nude patches, but the rest of the bra is 100% sheer awesomeness. The back alone is totally drool-worthy due to the straps and the cool mesh upper as well. We are not talking single straps; this baby has double straps crossing the back and then the bra strap at the bottom. Originally $169, the Helix bra is now on sale for $85.
I swim and I love bodysuits, so this Epic bodysuit / rash guard is on my wish list. I love the full coverage on the butt, the front, and all the way up to the neck. The suit even has long sleeves. However, full coverage does not mean boring. The cutouts and mesh inserts really bring artistic flare to this swimsuit. They also make your figure look fabulous. Originally $365, the rash guard is now on sale for $165.
Looking for a simple athletic short in a reasonable price range? If you are used to buying Lululemon, then the price of this Blaze Short from Michi won't faze you. Originally $89, the short is discounted to $45. It is made of performance fabric from Switzerland and is made in Canada.
I have been searching for a beautiful black bikini bottom that is simple, but not boring. The Splice Bikini Bottom is ideal for mix and matching with other bikini tops. It is completely black, features an interesting top, and provides maximum coverage without looking like it does. Originally $110, these bottoms are now $55.
Do note: their size guide runs a bit small in my opinion. Their size large is equivalent to a size 10. Be sure to consult the size chart before making a purchase.
Shipping costs a flat $8.95 across Canada, so load up your cart full of this amazing athletic wear and swim gear.
(Expiry: Unknown)