Mark's Canada: All Men's Polos 40% Off & Extra 20% Off @ Checkout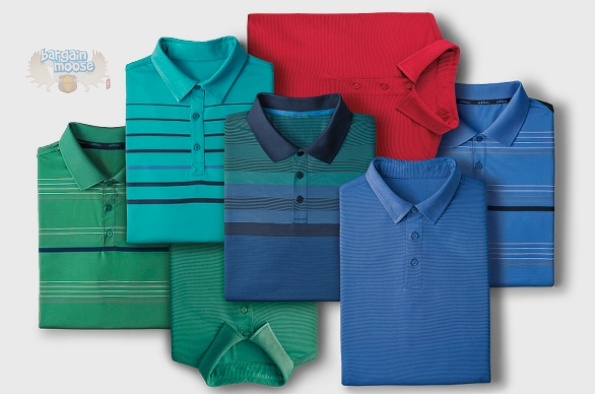 Mark's Canada is offering 40% off all men's polo shirts! Combine this sale price with an extra 20% off - automatically taken off at checkout - for an excellent deal on men's shirts.
My favourite style of men's shirt is the polo. Dress shirts are good in business settings, short-sleeve dress shirts are tolerable, and t-shirts just look like the guy is clinging on to his youth. At some mysterious age, I think a guy should transition into the polo. There are plenty of great styles, colours, and designs.
If you are just after a solid-colour polo shirt that is summer appropriate, then pick up the budget friendly Denver Hayes Shirt-Sleeve Pique Polo. This is your basic polo at its finest with 10 different colours to choose from in a solid, but textured, fabric. The jade heather and Bermuda green are my two favourite colours. When I say affordable, I mean it! Originally $29.99, these shirts are now on sale for $17.99. In your cart, they are further discounted to $14.39. You get a vast selection of polo shirts for under $15.
Is your budget a little tighter? Never fear, we can do a little better than that price per shirt! There is a vast selection of polo shirts on sale from $24.99 down to $14.99. Pay just $11.99 each after the additional discount in your cart. Here are some of my favourite patterns:
There are many more that you can purchase for under $12 per shirt. For men's polo shirts, this is a phenomenal price. I am thinking of places like Old Navy, where their men's t-shirts retail around $10 for the 100% cotton version. For just $2 more you can purchase a nice polo shirt.
Need to go even cheaper? I understand, sometimes budgets can be quite limiting. There is a select of four polo shirt styles on sale from $21.99 down to $13.19 right now. That brings each shirt down to $10.55 in your cart. Choose from these four:
All of these are made by Denver Hayes and there are many different colours available. There is a $6.50 flat rate for shipping, which is not bad considering how much you are saving per shirt.
(Expiry: 21st June 2015)