Lush Canada Deals: Free Christmas Kisses Bubble Bar!
I got a nice promo code in my latest email from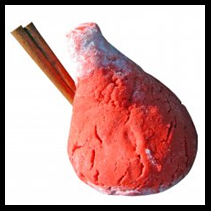 Where: Online @ Lush.ca
Coupon Code: LUSHLIFEKISS05
Expires: December 10th 2008
Cashback: 3.25%  @ DealGuild

There don't appear to be any minimum spend requirements. The description of this bath product sounds amazing:
"Soothe your muscles and warm your body when you've been out in the cold doing last-minute shopping or shoveling snowdrifts. This spicy bubble bar is as wickedly warming as a hot toddy, with a mixture of clove and cinnamon leaf essential oils, plus a splash of reviving sweet orange and lime. Comforting benzoin and grounding patchouli help you relax as you sink beneath its mounds of spicy bubbles."
The image to the right looks a bit odd though!! I absolutely love bath products from Lush, especially their bath bombs. The smell of the store when I walk past – it just drags me in to buy some lovely stuff!
P.S. Free shipping on a $99 spend online.